After Uber and Ola started eating into BEST's AC profits, it's time for the Red Bus [not the Bus Booking Website], and also the Purple siblings to face some more competition, this time from it's own brethren. The future of something as elementary as Transport seems to be in the hands of apps these days. After aggregators such as Lyft and HeyTaxi, for four wheelers and two wheelers respectively, now there is an app for a bus as well. It seems like more bad news for BEST.
Many of these services, such as rBus, CityFlo, Shuttl, ZipGo, are primarily running their services in the Bandra-Kurla Complex, where, BEST has only 2 AC services; AS5 and A77Exp. These buses seem to be a general public equivalent to the MetroZip service for employees in Hinjewadi which took away revenue from the PMPML.
Now, let us treat BEST as another organisation here, not a public transport unit. At the end of the day, the Brihanmumbai Electricity Supply and Transport [BEST] undertaking is an autonomous body under the aegis of the Municipal Corporation of Greater Mumbai [MCGM]. It would be wise to compare BEST vs the rest with either the Mumbai-Pune corridor or the Bangalore-Chennai corridor:
Mumbai-Pune: MSRTC has buses plying between Pune Railway Station or Swargate and Dadar, Borivali or Thane. There are numerous other companies on the same route, such as Neeta, Metrolink, Prasanna, Purple, MTDC, Konduskar, and even KSRTC. Rest assured, if you miss one bus, you'll have one of the others waiting for you at any given time.
Bangalore-Chennai: KSRTC alone has 40+ services in a day between the two cities, with others such as TNSTC, SETC, Sharma, National, KPN, SRM, and various others. Again, rest assured, if you miss any one, you can get yourself a seat on any of the others.
Now, coming back to BEST, let us look at their connectivity to BKC alone, this being a premium Central Business District, with major financial services, the National Stock Exchange, and the Bharat Diamond Bourse, among others having their base here. The area can be compared to Electronics City of Bangalore, in terms of contribution to the economy, both local and national. It is but natural, that connectivity, especially the premium kind is present.
BEST has a branded bus service on the lines of the Fort Pheri, labelled BKC-1, 2, and 3 connecting it to Bandra Bus Station [East] and Kurla Station [West], but these are non AC services, and thus, not enough.
Now, let us look at the larger picture here, and not just the BKC region. Now, CityFlo and rBus have multiple routes criss-crossing the city. What do they offer, that makes them a better option?
Assured seating.
Air Conditioned service.
Online or in-app payments.
Now, this can be compared with a BEST bus, say A74Express from Oshiwara Depot to Worli [Lotus]. There are two buses at 8am and 8.30am from Oshiwara and two at 5.35pm and 6.05pm to Oshiwara. The route and timings are based on timings of offices located in and around Worli. A vast majority of the commuters are pass holders and there are a few who buy tickets, many of them opting for a Daily Pass, thus implying that they have a Prepaid card. Due to this nature, you invariably get a seat to sit, and very rarely do you see people standing in these buses. The bus is air-conditioned, either a Cerita, or a Volvo. If you are a pass or prepaid card holder, payment is again, a cashless affair. So what makes a passenger prefer these buses over a BEST?
The app affair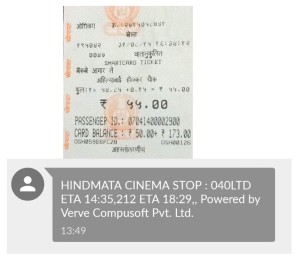 BEST may not have an app, but as far as routes, and timings are needed, it does not need one. m-Indicator is easily the most useful app on my phone. It keeps me connected with details of BEST, NMMT, MBMT, VVMT, TMT and KDMT buses, as well as suburban trains across all lines, plus Metro, Monorail, Ferries, and also gives me details of Indian Railways trains departing from the city. The only thing missing is MSRTC timings. Indian Railways meanwhile, has an app, aptly titled UTS to let users book Unreserved Tickets on suburban trains in Mumbai and Chennai. The app uses GPS to ensure that you are at the right station.Now, imagine if BEST were to offer that kind of a convenience. Buy a daily pass from your phone, and show the BEST app to the conductor. He scans the QR code and keeps going. Cumbersome, given that BEST has invested heavily in its Ticket machines for a long time. What if, like the UTS app only allows you to use GPS to book tickets, the BEST app allowed you to use Radio Frequency Identification/Near Field Communication [RFID/NFC], known to many as S-Beam on Samsung phones to load this, onto your BEST ID card? Purchase the pass on your phone, flash your ID and then show the card to the conductor, who verifies it like he does for normal passes. Sounds cool no?
While all this is indeed far fetched, I dream of a day when BEST operates Public Transport services differently. It offers the basic bus services to its regular crowd, but also premium services, similar to those of a private bus operator for those willing to pay.
What do you say? It'd be great to see your responses in the section below.
13,851 total views, 11 views today