Taxi and Ridesharing services in India have decided to upgrade their services in India to give a boost to the ailing market. Both Multinational entities as well as their local counterparts have decided to take the game to the next level.
UberMob and OlaMafia
Uber and Ola have launched their new services: UberMob and OlaMafia, although it is unclear at this point as to who launched what first. Touted as the first legitimate Taxi service for Gangsters, both companies are looking to great successes with the new launch.
On condition of anonymity, an employee at Uber stated, "We want Indians to experience the same feeling that people living on Staten Island experience." When contacted, an employee of Ola retorted, "We just want our customers to experience an Uber ride in Delhi". Industry sources stated that the two were keen on emulating an American local cab fleet that protested against Uber with taxicabs designed like cars owned by mobsters, complete with doors without handles on the inside of the car. Uber officials were rumoured to be deputing their notorious Delhi service provider range for this, while Ola has been said to favour its Bangalore fleet's drivers.
Excited Uber employees also leaked out news that the company was willing to try out something drastic, like attaching a city bus after Uber CEO Travis Kalanick was seen taking a ride in a BEST bus. Ola employees, coincidentally, within minutes leaked out plans to expand OlaBoats to include a submarine, specially for Mumbai and Chennai rains.
Handicar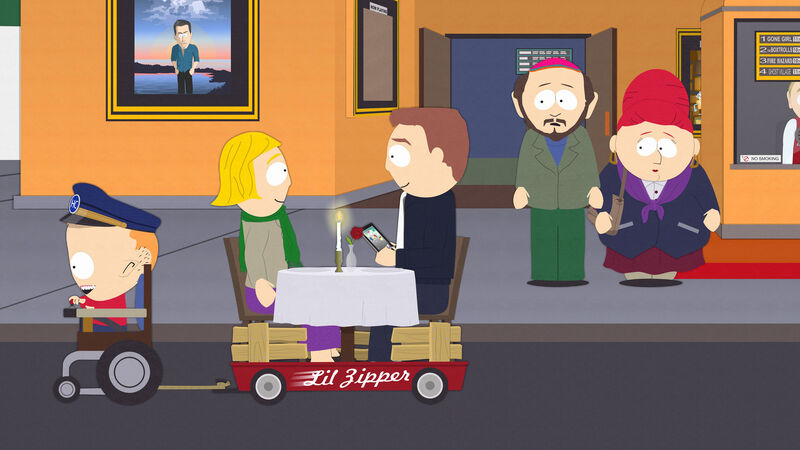 American Network Comedy Central announced its foray into the Personal Transport space with Handicar. Handicar, which formed the basis of a South Park episode, involves a Wheelchair user with a Cart attached behind it. Drivers wear a cap, known as a "Handicap". Users are a provided a complimentary snack and beverage.
A South Park Studios animator anonymously stated that the company intended to redraw the Handicar with Toon Boom, and print it using a 3D printer. Handicar drivers would also be provided with a Mask of Timmy's face which would be fitted with a Voice box that would randomly yell "Timmy!" with different variations and tones. They were keen on starting the service in India because they liked the booming ride-sharing industry and the fact that it would be easy to run the vehicle without a permit.
When contacted, Kyle Broflovski and Stan Marsh were unable for comment. Eric Cartman was attending the funeral of Kenny McCormick. Kenny was last killed when his orange parka got caught under the wheels of a Handicar.
Handicar is coming to India! Click To Tweet
Mooch
In a Desi-twist, Avinash Sharma, who claims to be the "Sharmaji ke bete" who scores higher than all the boys around him, announced a new service named 'Mooch'. Twirling his mustache, he said, "Mooch is a brand name, identifiable by both its name and appearance. The Mustache is a true man's identity. Mooch seeks to create a brand of it." When asked if the idea of Mooch might violate trademarks of Lyft in the USA, Sharmaji's son replied, "There the cab has a mooch, here the driver has a mooch. The cab has a fluorescent pink mooch that lights up and our drivers will have a jet-black [Kesh Kala] mooch that will be waxed nicely. Only drivers with a mustache similar to mine will be employed."
Recruitment is going on to hire mustached drivers for Mooch. 35 drivers have been selected so far, across a two week period, with many of them emerging from Kanpur and parts of Chhattisgarh as well as from the Satyamangalam forest which used to be the former hideout of the notorious bandit Veerappan. Training is being given to potential drivers to groom their mooch well.
Presenting Mooch- The Mustached way to travel! Click To Tweet
B'Ve
Started by a student as a dedication to his professor of a prestigious Media College, in Western India, B'Ve is touted to be an upper luxury hatchback service. While no major details are available at this time, it is rumoured that all drivers are to have long hair in a Bandana and drive Maroon-coloured Hyundai i20s.
(S)mooch
A rather cliched startup, this is a product of AyyoLabs. "We aren't trying to imitate Mooch", says founder Raghu Iyer. He adds, "(S)mooch is much more than ride-sharing. It's life-sharing. It's a combination of a ride-sharing app as well as a dating app. Couples looking for a ride are randomly matched on the basis of what they enter on their profile. The profile data is cross-checked and verified with their parents, and Kundlis. The service is right now only available for TamBrahms".
Ride-sharing is old, it's now time for life-sharing! Click To Tweet
With such massive changes in the transport industry, we have a lot coming in in the near future.
Apart from this, you also have the choice of taking Hawala Travels.
Note: All content in this article is fictitious, and must not be taken seriously. This article is satire, and should ideally be treated as such.
14,323 total views, 11 views today