The Pune Mahanagar Parivahan Manahamandal Limited [PMPML] recently conducted a public poll on the colour of of buses that would operate on the BRTS, and the results were mind-boggling.
Voting was on from 5th October to 12th October to select one among the 3 colour schemes shortlisted.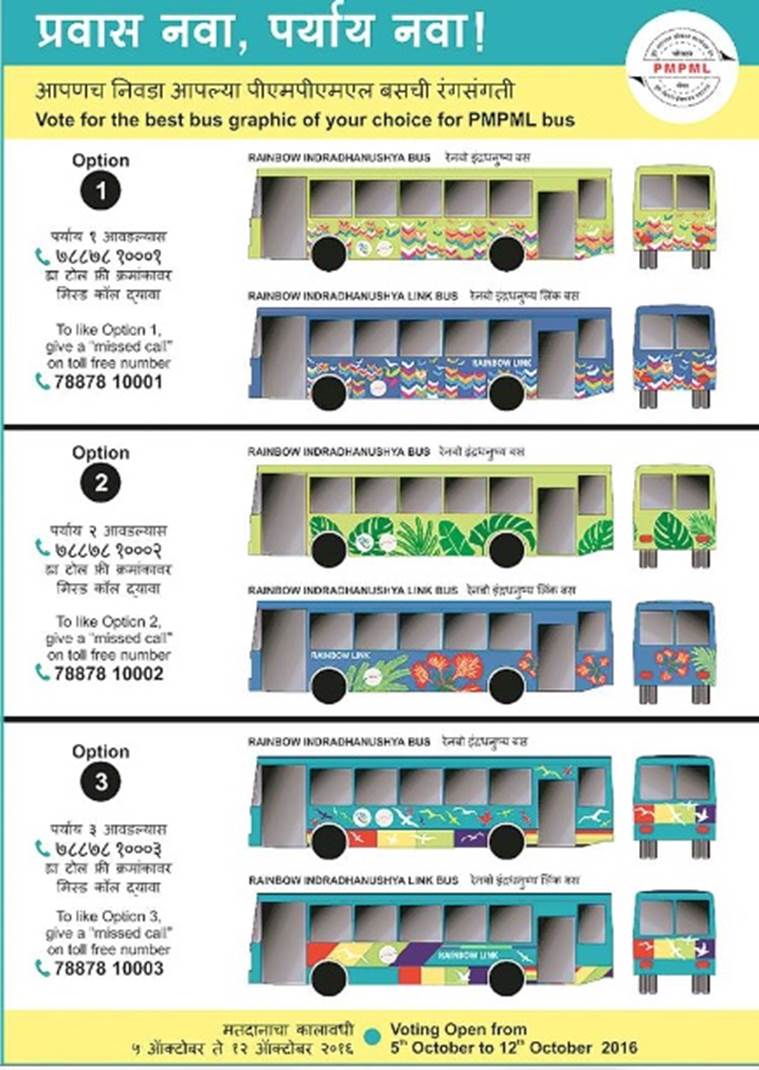 Chief Engineer for Buses, Sunil Burse said that over 10,000 people had responded by giving a missed call to one of the three numbers.
PMPML is procuring 1500 new buses for the various BRTS corridors along Pune and Pimpri-Chinchwad. It will also operate feeder buses connecting various Rainbow stations across the city to nearby localities.
Now, while this is indeed a shot in the arm for the PMPML, the real victory here goes to the city of Pune and Pimpri-Chinchwad. The Pune Metropolitan Region, which till a few years ago was infamous for its below-average bus services, is now seeing a major change. For an organisation that was had over a 100 buses off the roads a few years ago because it couldn't afford to service them, the PMPML has now gone to the extent of getting over 10,000 people to respond to a public poll. That, is the real victory here. Victory that the public cares for proper bus services.
Aesthetics is an important factor in any sphere of life. You choose a product or service on the basis of the feeling it gives you. A badly maintained bus will put you off. A well designed one will make you want to board it. That is one of the reasons why colours also matters. Of course, unless you are in Tamil Nadu, where all buses change colours according to the ruling political party, the fact that PMPML went to the extent of asking the public for its opinion on colours, is the first step towards efficiency.
SO here are the important lessons from this excercise that every transco must keep in mind:
Aesthetics matter. It's good that the PMPML is acknowledging this and has brought out three different colour combinations.
Public Opinion matters: Garnering public feedback for the services they will pay for is the best thing to do.
Public Interest: Getting 10,000 people to respond in Pune is huge. Pune has otherwise been infamous for pathetic bus services and was the frontrunner in developing a two-wheeler culture, much before Bangalore.
People want better Services: It is wrong to say that in 2016 nobody wants to take a bus and people prefer cars. People still would prefer buses. The sheer number of respondents here proves it.
The Future of Public Transport is indeed the bus.
Save
Save
5,995 total views, 3 views today