The world's oldest democracy is going to vote soon. Two years ago, the world's largest democracy voted. What is the difference between the two? Well, without going into the nitty-gritties of both, let's just focus on one point: Fragmentation.
In India, elections be it General, State Assembly, Municipal or Presidential are conducted by the Election Commission of India. Each state has a Chief Electoral Office [CEO] who is repsonsible for voter enrollment, candidate declarations, etc. While each state has a different way of getting the Enrollment done [Karnataka enabled Voters to submit scanned copies of their documents and fill the form online, as far back as 2013], the Election Process is Uniform across India. In the United States, the system is totally different. The Constitution, under Article 1, Section 4 gives complete power to the State governments in matters relating to voting. The Federal Elections Commission oversees the election in general, enforcing term limits, disclosing campaign finance information, etc.
Due to this decentralised nature, each state has its own method of conducting elections. Some states may use Electronic Voting Machines, so may use Ballot Papers, etc. This may result in some anomaly. The Butterfly Ballot issue of Palm Beach County Florida [explained here in the American Political Science Review] is one such example.
In places where Electronic Voting is followed, the voter has to fill up an optically-readible ballot paper which is then fed into a machine.
In India, a standard uniform system is following using the Electronic Voting Machines developed by Bharat Electronics Limited and the Electronics Corporation of India Limited.
Now, while diversity is a good thing, for it results in better quality of products and services, fragmentation is not really that good in reality.
Now that we understand the issues relating to a fragmented system, let us come back to Indian Transport.
Transport in India is largely a fragmented segment. Excluding aviation, which is governed by central policies and is full of private players, and the Indian Railways network, let us focus on the Buses and their operations.
Depending on which part of India you are in, the bus you board would be operated by either the State Government or the Municipal Corporation. The exception is Chandigarh, where the CTU comes under the Union Territory Administration, and in the absence of a Legislative Body like in Delhi or Puducherry, it comes under the Union Government.
But it is not this fragmentation that I am talking about. This is due to the various levels of decentralisation that is prevalent across our country. The fragmentation that I am talking about is what is prevalent within a single Transco, or a single City division/SPV of a State level Transco.
To give an example:
BEST is among the most defragmented Transcos. Every bus used the same ticket machine, every conductor issues the same kind of ticket and every bus or conductor accepts a Smart Card, be it a Pass or a Prepaid Card. The fragmentation arises in matters such as the LED display: Some buses have a full length LED display on the front, some have the tiny one visible in new buses, and irrespective of whether these are functional or not, some still use the old Rolling Cloth system for displaying the route and number.
In the case of BMTC, fragmentation is higher. Not all buses are properly hooked on to the Tracking platform, some buses still use the old Quantum Aeon ticket machines or worse, some still issue the old punched tickets.
Simmilarly, NMMT shows some amount of fragmentation. While earlier, only AC services had Electronic ticketing, now, all have it. But, only AC bus tickets can be booked using an app, while others still have to go through the machine.
Delhi too, is a good example of fragmentation. While regular buses, Cluster Buses and the Blueline buses are all operated by different entities, they essentially operate on the same route. However, buses operated by the DTC still use manual fare collection, with a handful of ticket machines thrown in for good measure in the last few months. The Cluster buses operated by the DIMTS have ticketing machines, can be tracked online, but there is compatibility of their systems with the DTC ticketing process. Blueline/Metro Feeder and other private buses, don't have any form of connected ticketing.
Now, this brings us to an important point. Common mobility.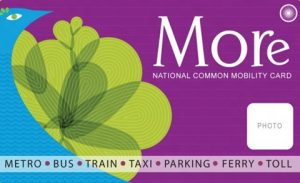 The Government of India had rolled out the More Card in 2012 as a common mobility card. Initially restricted to the Delhi Metro and Route 56 of the DMRC Feeder Bus, it was launched post the failure of the Go Mumbai Smart Card. While Mumbai has gone ahead with its Smart Card System, although extremely fragmented [one card each for BEST, Metro, Monorail and the Suburban Rail], it has managed to make cashless travel in almost all forms of transit. Autos and taxis are not covered, although Ahmedabad has gone ahead with such a proposal. I haven't seen the More Card anywhere in Delhi in the last two years, and I have seen all Metro Feeder buses issue regular paper tickets.
In 2015, the Ministry of Urban Development came up with another proposal for a National Common Mobility platform with collaboration from the National Informatics Centre [NIC], Centre For Development of Advanced Computing [C-DAC], Bureau of Indian Standards [BIS], and the National Payments Corporation of India [NPCI]. The new system is proposed to use Europay, MasterCard and Visa [EMV] Open Loop system with a stored value system. It also took into account the deficiencies with cards in Singapore. It took the Octopus Card from Hong Kong as a base for its working, in order to support Passes as well; a crucial feature of BEST's RFID Cards. While C-DAC will develop standards for existing Metro Rail systems, the problem will arise with other modes of transport. Ferries in India don't use eTicketing. They still use the old fashioned ticketing. Barring Mumbai and Kerala, no other area of India has a proper water transit system or anything resembling one in place. Similarly, with Tolls, will this be accepted at toll plazas operated by other bodies except the National Highways Authority of India [NHAI]? Will it be compatible with FASTag? With each Transco using different ticketing machines [BEST uses Balaji, BMTC uses Verifone, both supplied by Trimax], will the entire system be compatible with each other?
Further, with vehicle tracking. A National Mobility platform will require the Vehicle Tracking System in place. BEST uses a GPS device fitted onto a bus, BMTC and DIMTS use the location from the ticketing machines. All this results in a jumble that nobody would seem to understand.
Let us hope that provisions are made to ensure backward compatibility of systems so that money is not wasted in procuring new technology.
Moral of the story: The odds of Hillary Clinton or Donald Trump winning are the same as the odds of getting into a BMTC bus and getting either a printed ticket, or the regular ticket.
Save
Save
Save
Save
Save
Save
Save
Save
Save
Save
Save
Save
8,575 total views, 3 views today