The Dindoshi Bus Station (next to the Dindoshi Depot) on the Goregaon-Mulund Link Road near Oberoi Mall is all set to get a facelift.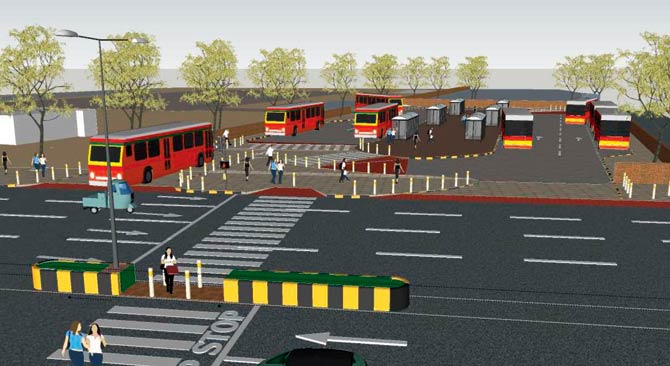 Below is a slideshow on the whole subject:
In the above slideshow, a lot of emphasis is laid as to why Dindoshi was chosen for this. Dindoshi Bus Station is among the busiest bus stations in Mumbai. The plan takes into account the number of buses entering and leaving, the different routes along with the existing facilities at the bus station. The depot and terminal occupy 3242.9 sqm., and witnesses approximately 8331 passengers a day.
The existing terminal has a terminal building, bus bays, bus parking bays and a passenger boarding area. For pedestrians, it is a bit dangerous due to the large gap in the central median outside the depot as well as vendors on pedestrian pavements. It is a little difficult to spot as well, due to its inconspicuous look. Further, due to a single entry point for drivers and buses, it is accident prone. Passengers further have to often board buses in the parking bay, thus making them walk across the open area of the terminal where buses are in motion. Due to haphazard parking, buses may also collide with each other.
Several changes have been proposed to the layout, in two phases:
Phase One
Phase One lists the basic changes that need to be made:
Improving pedestrian safety while accessing the terminal
Changing bus circulation and the pattern in the terminal
Reorganising the terminal layout for better accessibility and safety
Amenities for both passengers and staff
Phase Two
Phase Two involves commercialising the entire structure.
Multiple concepts have been provided in the entire plan, which can be seen in the Slideshow.
Overall, this is a good move. If it is done in the right way, with proper accessibility for pedestrians and those who are visually or physically impaired, it would be a big boon for the city and for BEST.
Save
Save
Save
Save
4,114 total views, 15 views today