No, this is not an April Fool's joke. Not even close to one.
BEST has announced that beginning 17 April 2017, operations of all AC buses will be suspended. This information was announced via a Press Note dated 13 April 2017.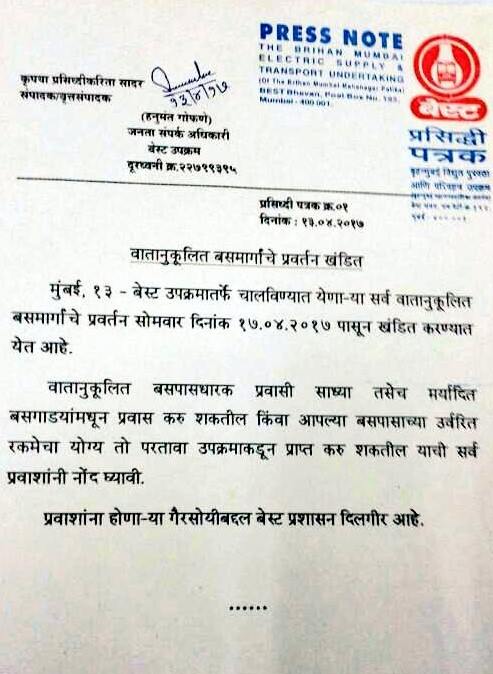 This is a really sad thing. Mumbai is a huge city with a large number of vehicles. Cancelling AC buses would mean people will opt for cars/bikes/taxis.
BEST was among the first to introduce AC buses, way back in 1998. Things began going downhill when in 2007, then General Manager Uttam Khobragade (named in the Adarsh Scam along with his daughter Devyani Khobragade of the US Underpaid Maid infamy) procured Cerita buses by fakely claiming that they were Chinese Kinglong buses.
This is really a sad day for Mumbai. BEST had done all that it could in the last few months, from slashing fares, to introducing Happy Hours, to reintroducing cancelled AC bus routes. This is indeed a bad moment for us.
Featured Image: AS-524. (Photo Credit: Sameer More)
7,910 total views, 7 views today