BEST today has announced that the old ₹500, and ₹1000 notes can be used till 24-11-16 to buy Bus Passes/Renew Bus Passes.
The higher value notes, that had been pulled out of circulation for most purposes on 08-11-16, were to be valid in Government Hospitals, as well as to buy air tickets, railway tickets and bus tickets at airports, railway stations and bus terminals of State Transport Undertakings respectively.
BEST announced this by sending a text message to existing passholders and prepaid card holders.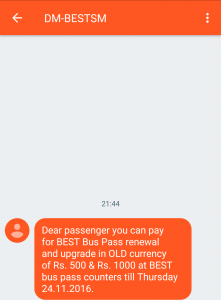 While the demonetisation of notes presents us with a great opportunity to go cashless, it will take time to start.
For a list of Point of Sale (PoS) Counters from where you can Buy/Recharge/Renew Bus Passes and ePurse Prepaid cards, please refer to Page 11 of this document.
Note: You will be required to provide your Name, Address, Phone Number along with the Serial Number of the notes.
Read: Going Cashless In Transit: Blurring The Line Between Digital And Physical Approach by Srikanth Ramakrishnan on Swarajya
8,636 total views, 16 views today