BESTpedia has turned a year old. I'm just doing a quick recap of what all has happened in the past one year.
The first post went live on 9th July 2015. There has been no looking back ever since. Of course, Analytics didn't make an appearance till a month later on 19th August. So, there is little hope of finding out what the hit count was that month, but then, the past is the past.
Anyway, moving on, July saw 6 posts, with two highly successful posts on BEST [Electronic Tickets and Curious Case of BEST AC Buses] and one Fiction Post on Bus 8954.
August saw a two really popular posts among others. Branded Bus Services, and Sherlock's Day Out were both incredibly popular with the latter getting close to 600 shares on StumbleUpon.
September saw some offbeat posts including ideas and a post on temples, and the first entity that wasn't directly on the blog [later, part of the Stupindex]. Visits dropped from around 800 to 500 a month however.
October saw a rise in the number of hits with six posts. It also marked the first occurrence of a series of several satire posts on the blog. It was in this month that I got to attend IndiBlogger's #BNLF in Mumbai.
November marked a significant change for the blog. 10 posts were made, the highest per month till date. It was also the first time that number of visits crossed 1000, ending at 1606. It also marked my first major interaction with the IndiBlogger community with their #madeofgreat series of contests.
December continued on the same high as November. Six posts were made, including two on Delhi [where I was working], one on the Chennai floods, 2 on BESTs plans for buses to Imagica and Parking Lots at Depots, and one on the Bullet Train.The last post for 2015, published at 11.45pm on 31-12-15, was a major one on Amaravati, which went semi viral and got the blog loads of shares the next month. A total of 2245 visits came in December.
January got off to a good start, mainly thanks to the spillover traffic from December. It also witnessed the first two guest posts on the blog. A total of five articles were posted, but due to the traction gained by the Amaravati listicle in December, the month saw 3238 hits, a figure that was exceeded only twice after that. In fact, the first one week alone led to a huge spike in the number of hits, with the 1000 mark being crossed in the first week itself.
February saw a slight slump in articles, with the first article coming out at the start of the third week and the only other article in the month coming out on the 28th. The #MakeInIndia article got good traction however, with Amitabh Kant, CEO of NITI Aayog, as well as the DIPP retweeting my tweet linking to the article.
March saw a slight comeback with 6 posts. The piece on JnNURM buses violating norms was a significantly investigative one, which did get positive feedback from transport lovers. The month saw my first active participation with #BlogChatter as well. The major post of the month however, was the Public Service Announcement produced with my friend Deepak.
April saw 5 posts with one of them being a highly successful guest post by GSR Chaitanya of LoveOfZ about Hyderabad, and a super popular tongue-in-cheek April Fool's Day post on Taxi services that was quite popular.
May saw 5 posts, with Dork Guru returning to do one more guest post as a follow up to my post. Traffic remained average with 2959 visits. A new feature, titled Unsung Heroes Made an appearance. It also saw the formal creation of The Stupindex as a Table of Contents for all the off-blog inanities around here.
June saw 3450 hits, the highest till date, with a significant amount of traffic coming in from Swarajya Magazine where I had written an article on Highway Strips which was extremely popular. 6 posts were made, including another satire post [BEST Dish of the Day] that got me a comment and a share from Purba Ray. The last article of the month on Zeppelins was also popular after Jayaprakash Narayan of the Lok Satta Party retweeted a link to it on Twitter.
July has so far seen only one article with this one being the second. A total of 70 articles have been posted prior to this with a total of 576 comments and pingbacks/trackbacks. At the time of writing this post, the blog has received a total of 25,320 hits!
It has been a completely amazing ride in the last one year as a blogger. A sincere round of applause for the readers, fellow bloggers, and everyone out there who has encouraged me.
Now a few acknowledgements are in order:
Team #Blogchatter: For all the amazing support and motivation. I'm also the Blogstar of the Week!
The IndiTeam from IndiBlogger: For all their IndiVine topics that helped me write a lot.
Team Swarajya: I did write three major articles for them!
The Skyscrapercity India community: I get a lot of ideas for my content from discussions there.
Individuals I need to thank:
Janvi: The first person to recognise my flair for writing light humour, and allowing me to co-write this post, way back in 2013.
Geetika: For all the motivation, critique, support, and being a victim to me disguising blog links.
Nidhi: For all the mentoring, motivation, pep talks and encouragement.
Rohini: Again, a lot of support, motivation, and that she is Sherlock's hooman.
Sameer: For all the feedback and encouragement.
Deepak: For helping me out with the PSA, and being the first to read my blog posts.
Richa: For introducing me to a lot of people in the blogging community which has immensely helped me as a blogger.
Gauravi: The first victim of the Stupindex.
And the entire Blogbuddy group; InkingPages consisting of:
I'd strongly suggest going thru the individual links of the various people mentioned above. They're in many ways responsible for the vibrant environment that I am in.
BESTpedia is now one year old! #InkingReflections Click To Tweet
A quick chart of all the ups and downs the blog has had: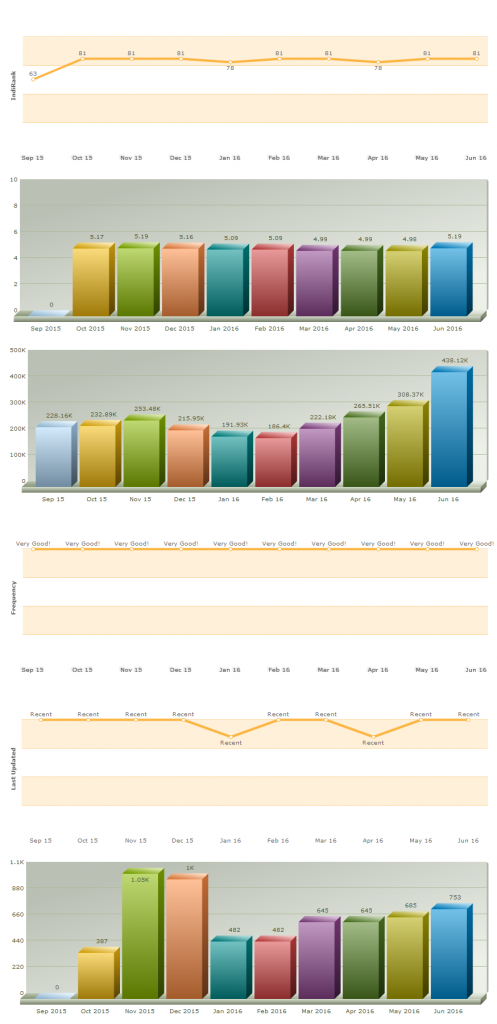 Save
Save
5,370 total views, 4 views today