Recently, it emerged that an Autowala in Mumbai gave an actress Megha Chakraborty a Fake 100 rupee note.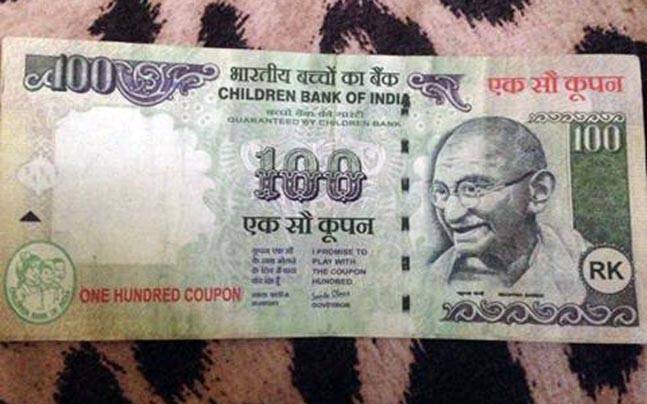 ScoopWhoop did a fantastic analysis of the note:
It claims to be issued by the Children Bank of India
It claims its value is One Hundred Coupon
The guarantee on it says 'I promise to play with the coupon hundred'.
It is signed by Santa Claus.
Now, while we leave the analysis of the note to the experts at BuzzFeed and ScoopWhoop, we are left wondering about something else.
It is 2016. Cashless payment is here. UPI is here. Jio is here. RFID Cards are here. Uber and Ola are also here. PayTM and MobiKwik are here. Why pay with Cash?
The excuse that some people may not have a bank account, or a phone is no longer a valid argument, atleast not in India's largest city.
There are two ways of achieving cashless payments:
The Physical Method
This is simple. An RFID card. BEST has a prepaid smart card in place for buses. Mumbaikars would know by now that there are FOUR prepaid cards available in the city: One for BEST, one for the Suburban Railway, one for the Metro and one for the Monorail. While the erstwhile Go Mumbai Smart Card that was scrapped in 2011 was valid on both BEST and the Suburban Rail, the RTA has mooted a common mobility card for all forms of transit. If this comes into play, this can be extended to auto-rickshaws too. Mumbai's much, much younger sibling Ahmedabad has already raced ahead by enabling autos to be part of the Smart Card system. Of course, this will work only in a few cities. The Greater Mumbai Region, Pune, Ahmedabad, Surat, and to a certain extent Bengaluru, are among the few cities where one can find autowalas return even the last rupee change to the passenger. Delhi's autos, with its fancy GPS enabled fare-meters NEVER ply by meter, so the chances of them accepting a prepaid card is close to zero. Gurgaon, and other areas, well, don't even have a fare-meter in the vehicle, so tough luck.
The Digital Method
Again, Mumbaikars would know this well. The UTS app by the Centre for Railway Information Systems [CRIS] allows commuters to buy tickets and Season Passes using an Android phone and a mobile wallet. Of course, it has its own share of problems. This is also the model followed by Uber and Ola for non-cash rides. All one requires for this is a prepaid wallet and a phone. While Ola chose to partner with ZipCash, Uber chose to partner with PayTM. In some cities, autowalas have PayTM QR codes affixed to their vehicles, all the passenger needs to do is open the app, scan the code and transfer the amount. Walah!
The Bottom Line
We are not a poor nation. We are not a third-world nation. When we have advanced so much to the extent of having prepaid cards for bus tickets, and also buying suburban rail tickets on the phone, why can't we slowly do away with cash based transit systems?
Save
Save
Save
Save
Save
Save
Save
6,522 total views, no views today