In another revolutionary move, BEST has decided to focus on becoming more public-transport centric and turn itself from a loss making body to a profitable one. In other words, BEST has decided to become the BEST, by taking on NMMT and TMT head-on.
Update: BEST has announced reduced bus fares and passes from 01-07-16. AC passes are back to ₹150, with a new Child rate for children under 12. Happy Hours have been introduced as well. More details here: BEST Fare Revision 2016
BEST has decided a reshuffle of its AC routes, cancelling two, reconsidering a few and proposing a few more!
Now, the interesting thing is that BEST is reconsidering two routes via T2 of the Chhatrapati Shivaji International Airport. BEST earlier ran dedicated AC express routes from the airport such as A1Express from T2 to CBD Belapur Bus Station and A14Express to Cadbury Junction. Among the routes being canceled are A76Express from Gorai Depot to NSCI Worli via the Bandra Worli Sea Link and AS592 from Kopar Khairane to NSCI Worli. Routes that almost got scrapped include:
AS9 from Ghatkopar Depot to Dr. Shyama Prasad Mookherjee Chowk
A74Express from Oshiwara Depot to NSCI Worli
A75Express from Hirandani Powai to NSCI Worli
A77Express from Gorai Depot to BKC Telephone Exchange
Routes that are being proposed include:
AS71 from Fishermen Colony, Mahim to Mira Road East, via CSIA T2
AS72 from Rani Laxmi Chowk, Sion to Bhayendar East, via CSIA T2
As415 from Agarkar Chowk to SEEPZ via Marol Depot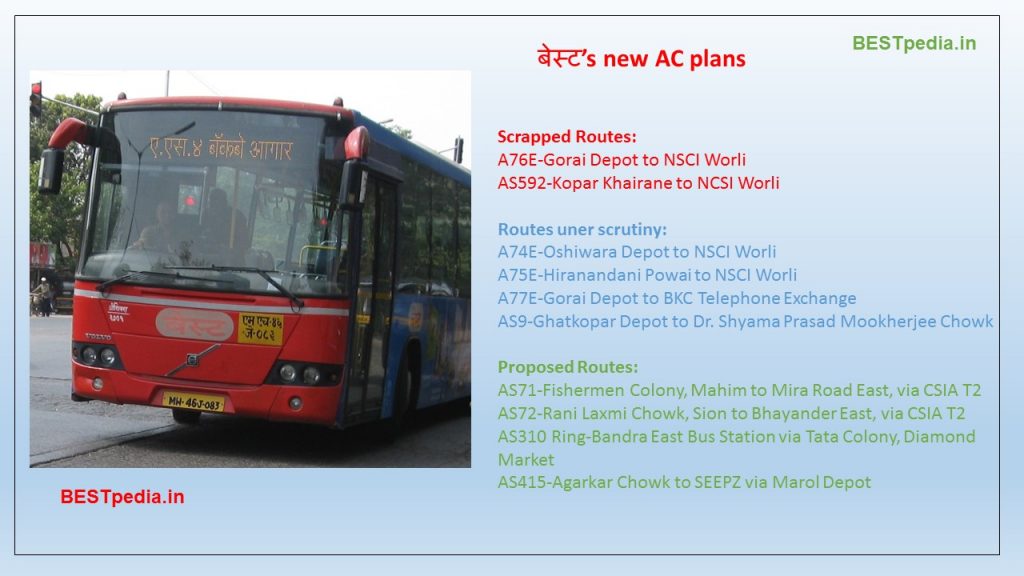 Apart from this, 50 routes across the 27 depots are slated to be cancelled.
What started all this?
A simple change in the BEST committee in the MCGM. After close to a decade, the BJP took over the committee from the Shiv Sena. Rather ironic, given that the Sena is anti-Toll while the BJP is pro-Toll. If you recall, it was the Sena that hiked the fares of BEST in 2015, first in February and then in April in 2015.
A quick recap would show that the BJP has always been adept at providing good transport wherever it has been, be it in the form of the Mumbai-Pune or Ahmedabad-Vadodara Expressways, the BRTS corridors in Ahmedabad, Rajkot, Surat, Bhopal and Indore, BMTC and KSRTC which showed a massive turnaround under R Ashoka, the erstwhile Transport Minister of Karnataka.
Back in 2005, BEST, had introduced the Smart Card system with Kaizen Automation, in the form of the Go Mumbai smart card, which was a common mobility smart card for both BEST buses as well as trains on the Suburban Railway. These were subsequently phased out in favour of the present Trimax system that BEST uses.
Rebranding
BEST, which officially turns 70 in its current form next year, and currently has a debt burden of ₹2,250 crore, plans to change its logo as well the colour of the buses in a major move to rebrand itself.
BEST has written to the Sir JJ Insititute of Applied Arts, one of the city's premier art institutes to guide it in the process. The colour change is part of an exercise to make BEST more acceptable among customers.
The Mumbai Monorail, operated by the MMRDA, got the National Institute of Design [NID], Ahmedabad to design its coaches. One hopes that BEST too, would reach out to NID, or maybe even the Centre for Enviornment, Planning and Technology [CEPT], Ahmedabad for some ideas in design and operations.
Passes
Among other changes, are the rates of passes, monthly, as well as daily passes.
While the Major changes are the the reduction of the Monthly AC bus pass from ₹4800 to ₹3300, a significant change is the reduction of the Magic Daily Passes:
Magic AC: ₹200 to ₹150.
Magic Non-AC: ₹70 to ₹51.
Suburban Pass: ₹50 to ₹36.
Island City/Town: ₹40 to ₹29.
However, these are valid only during the Happy Hour period of 11am to 5pm.
The question here is, if the pass is cheaper post 11am, nobody would buy a pass before that. An alternative explanation is that passes purchased between 11am and 5pm are not valid during the rest of the day, which is an inconvenience to those who might purchase a pass after 11am, but may need to use it at 9pm. I guess, an official explanation from BEST would be the best thing to wait for.
While, BEST currently has good integration with the Suburban Rail, what is desired it better integration with the Metro, Monorail, and MSRTC services.
Save
9,987 total views, 11 views today