Two months after BEST announced its intentions to rationalise fares, BEST has kept its promise and revised them.
BEST has already started the new AC routes [AS310, AS415, AS71, AS72]  proposed, and as of 1st July 2016, the new fares are in operation..
The new BEST committee headed by the BJP has done well in giving BEST the necessary shot in the arm.
The new rates are close to half of the earlier ones.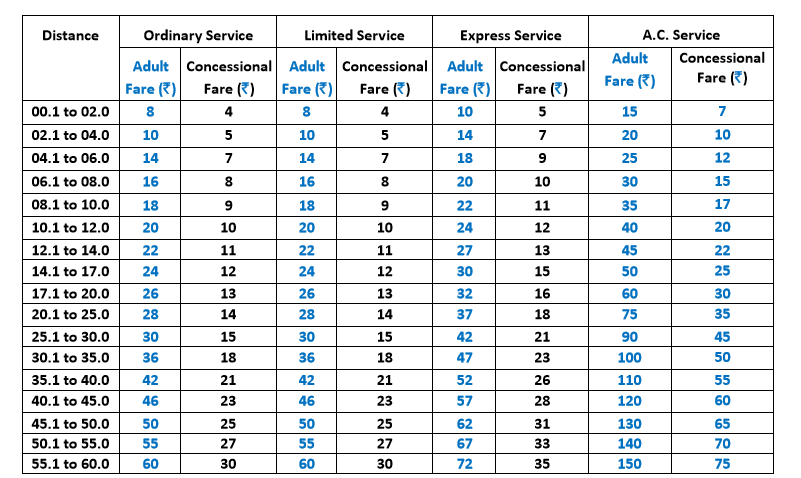 The usual conditions, such as 15 paise nutrition surcharge, concessional fares for children below 12, flat fare of ₹2 for visually-impaired passengers, additional charge of ₹1/₹5 for non-AC/AC buses beyond MCGM limits and luggage rates are applicable.
Passes and Happy Hours
For passes, monthly and quarterly rates have been reduced. For Daily Passes, the rates for the non-AC passes are the same. The AC Magic Day Pass now costs ₹150, as was the case before the April 2015 fare revision.
A separate fare structure exists for Children, which costs roughly half the regular adult fare.
The concept of Happy Hours has been introduced, between 1100hrs and 1700hrs [11am to 5pm]. During Happy Hours, all passes are sold at the rate of Child Passes.
For the full fare revision; please click here.
A friend reported that post the fare revision, a ₹105 trip from the JVLR/Jay Coach Junction to Airoli in an AS524 now costs ₹65.
This would mean that a trip from Thane Station [East] to Borivali Station [East] on AS700 would cost around ₹75-80 instead of ₹120, bringing it on par with TMT AC65 and NMMT AC131.
Similarly, Agarkar Chowk to Mulund Check Naka Bus Station on As422 should cost ₹60 instead of ₹100.
All this brings BEST on par with NMMT and TMT in terms of fares. Interestingly, while NMMT/TMT have hiked their fares in view of the recent introduction of a 6% Luxury Tax by the Government of India, similar to BMTC and TSRTC, BEST has reduced the fares. One would have to assume that the new reduced fares are inclusive of this surcharge.
Now, with the new fare structure in place, BEST needs to work on a few things, mostly dealing with its AC fleet. They are:
Fix the Cerita fleet. Get them in working order as long as they are around. Some of them have been converted into non-AC buses to replace the Starbus fleet that has been taken off the roads.
Get those 46 Volvos from Asian Concierge. Crucial for BEST to remain in the competition.
Reintroduce routes such as AS422, AS4, AS1 on Sundays.
Reintroduce discontinued routes such as AS505 to take on NMMT's AC105.
BEST is certainly moving in the right direction. With a few more steps, it can soon recover its losses and be a role model for other Transcos.
Save
Save
Save
14,935 total views, 11 views today