BEST recently slashed its AC fares by 50%. The results of this, while obvious, are quite shocking.
BEST also introduced several new routes: AS-71, AS-72, AS-318, AS-415.
Earlier, NMMT and TMT AC buses would always run full while BEST buses were like Chauffeur services, with one or two passengers in some of them. The reasons were clear: BEST used its Purple Faeries while the other two use Volvos, and further, BEST charged one and a half [1.5x] times what the other two charged.
But not any more. BEST's minimum AC fares have come down from ₹30 to ₹15 while NMMT and TMT charge ₹20.
The Net Result?
BEST's AC buses are seeing a higher patronage. BEST, whose ridership had fallen from 43lakh to 30lakh, is now trying to get it to 45lakh.
Take a look below and see how two AC buses are performing.
AS-318
This is AS-318 at Bandra Bus Station [East] towards the Bharat Diamond Bourse in Bandra Kurla Complex.
As you can see in the picture, the bus is quite full.

AS-415
This is AS-415 from Agarkar Chowk to SEEPZ. As you can see, the bus is full of passengers.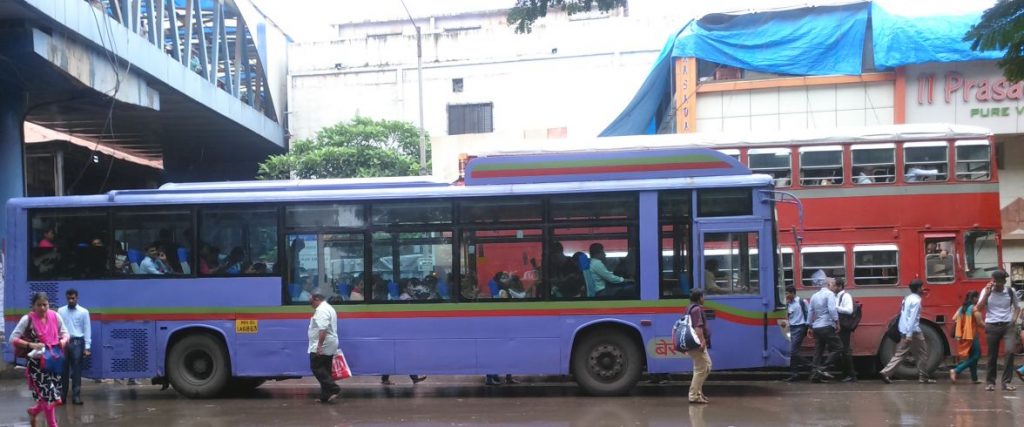 When was the last time you saw a BEST AC bus full of passengers? 2009? 2010.
With BEST getting the new Tata Starbus Hybrid fleet soon, things are just going to improve.
Of course, as stated earlier, BEST needs to get rid of the Cerita fleet soon and go for more powerful Ashok Leyland, Corona, Scania and Volvo buses to sustain this increase in passengers.
BEST slashed its AC fares by half. What happened then will NOT blow your mind! Click To Tweet
Images courtesy Coolguyz from Skyscrapercity.
Go ahead. Share this article. Share the joys of traveling in India's Oldest Public Transport Company.
Save
Save
Save
Save
Save
12,916 total views, 7 views today