Getting stuck in traffic is possibly the worst thing ever, especially in the morning. It simply ruins the rest of your day.
You wake up, get ready, and leave for a 9 hour job. You leave and end up stuck in traffic and your entire day goes for a toss. You are frustrated, irritated, and end up antagonizing others.
Now, where does the problem start? In today's world, everybody relies on Google Maps. With Google advertising on Television about the awesomeness of it's Navigation and Live Traffic relay, every Tom, Dick and Harry is busy using it to get to their destination. I'm not blaming the efficiency of Google Maps, but it did cause what I would call an Antagonising Disaster in Bengaluru.
To give a background, I need to travel to HSR Layout from Bannerghatta Road. There are two primary routes to reach this destination:
BTM Layout and Central Silk Board
Bommanahalli and Mangammapalya
The first route is perennially jammed because a vast majority of the traffic flows on this route, especially buses, and with bus stops placed precariously close to the signal, say goodbye to reaching office early.
The second route is less congested, faster and allows you to enter HSR Layout from the other end.
Now, the fastest way to reach HSR via the second route is: Vijaya Bank Layout – > Kodichikanahalli Road – > Devarachikanahalli Road – > Begur Road – > Mangammapalya Road and then turn into whichever main road of HSR Layout you would like to go to, starting from 5th Main.
Now, in order to get on to Mangammapalya Road [MR], one has to turn right onto Hosur Road, and take the immediate left. There is an opening on the Service Lane. This, is where the problem started.
BBMP had shut down the junction for a few days, in order to build a median on MR. Along with this, as part of traffic control, they barricaded part of the Service Lane. Thus anyone going from Silk Board towards Bommanahalli would have to get onto the main carriageway because the service lane is shut. Further, those coming out of HSR Layout via MR, would have to compulsorily take a left towards Garebhavi Palya because there was a Median that extended to the service lane barricades. Sounds complicated doesn't it?
Once this was done, Google, which tracks every Android device, assumed that the junction was shut and thus stopped directing traffic on this route. It would direct all traffic towards Silk Board from the Bommanahhali signal, or worse, divert people onto a teeny-weeny, narrow, pothole ridden road parallel to Devarachikanahalli that went thru Virat Nagar, Vird Nagar and came out at Roopena Agrahara. Ultimately, all traffic ended up at Silk Board. Now, Uber drivers normally prefer following Google Maps. The situation is worse if you're in an Uber Pool. The driver does not know the route, and even if some passenger wants to get off on MR, the map would direct them to Silk Board, then turn into HSR 5th Main, and then come back to MR. Very agonising, and antagonising.
I figured, let me try and fix this issue.Thus, I began shaking my phone. I shook it. Submitted feedback. No change. Repeat process. This went on for THREE WEEKS till Google finally removed the Road Closed Sign. I even tried to upload a pic of the junction in my feedback. It took a while, but in the end, it worked.
The reason why this affected me so much was, since all traffic going towards HSR Layout, or even beyond Agara, towards Marathahalli would end up going to Silk Board. Not just Uber and Ola drivers, but even regular folk who didn't know the city ended up on this route. A major Pain in the Nether Regions, I say. This often resulted in nasty waiting times at Silk Board, sometimes lasting up to 25 minutes. This pileup also impacted traffic going toward BTM since all those waiting to turn right would hog up the left lanes. Further, the ripple effect caused by this caused pile-ups on all sides of the Silk Board flyover, creating a Royal Mess!
Now that the situation is back to normal, I for one am happy. Lesser traffic jams, faster traffic, but unfortunately, no reduction in people mindlessly following Google Maps.
Here is a screenshot of the junction in Question.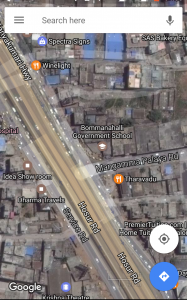 Save
9,001 total views, 7 views today